India was in for a big surprise when its Prime Minister Narendra Modi on 8th November, Tuesday night  took a bold step with the announcement of  immediate demonetization of Rs 500 and Rs 1000 thus making these notes ineffective from midnight to curb the menace of black money, corruption and fake money.  The government has started issuing new notes of Rs 500 and Rs 2000.
This is one of the biggest ever crackdown on corruption and no one possibly had imagined the BJP Government would take such a strong measure. It is possibly a direction to Global leaders how to do deal with such problems. There have been multiple suggestions in US, Europe and UK to demonetize large notes. But no one has done it so far.
This shows that India can think big, out of the box and implement something that others haven't dared to. But, the move to demonetise high denomination notes had earlier happened in 1978. The Government of India had demonetised Rs 1,000, Rs 5,000 and Rs 10,000 notes then to stop the black money. Of course, the difference is that the value of those notes then was much higher and the amount in circulation would have been much lower. The Indian economy was also much smaller then.
India has been a major victim of terrorism and the fact that the network of terrorism thrives on fake Indian currency notes (FICN) especially high denomination notes, widely used for disruptive activities like espionage, drugs, etc.,this move by the government could aptly be described as 'it hits where it hurts' shall therefore help in curbing the menace of FICN to a large extent. Also the fact that demonetization of high denomination notes is an effective tool for checking accumulation of unaccounted wealth in cash and therefore this strategy shall be potent enough to stop circulation of black money, to a very large extent, which is considered to cast a shadow of parallel economy on the real economy.
According to press release by Department of Economic Affairs the data released by the World Bank in July, 2010 estimated the size of the shadow economy for India at 20.7% of the GDP in 1999 and rising to 23.2% in 2007 which in today's Dollars will be worth USD 450 Billion. It is an open fact that a parallel economy destroys the very fabric of country's economy which then culminates into higher inflation  and badly affects the poor and the honest tax payer.
Retail market transaction in India stands at $ 1 trillion of which around 8 percent take the digital transaction route. This particular move is aimed to further  encourage electronic transactions, which could be easily tracked and help the country move towards healthy economy. One of the biggest beneficiary of this move shall be digital wallet service providers who stand to gain in the short and long term along with  online marketplace which foresees a significant drop in cash on delivery transactions with more use of plastic money in the  coming days.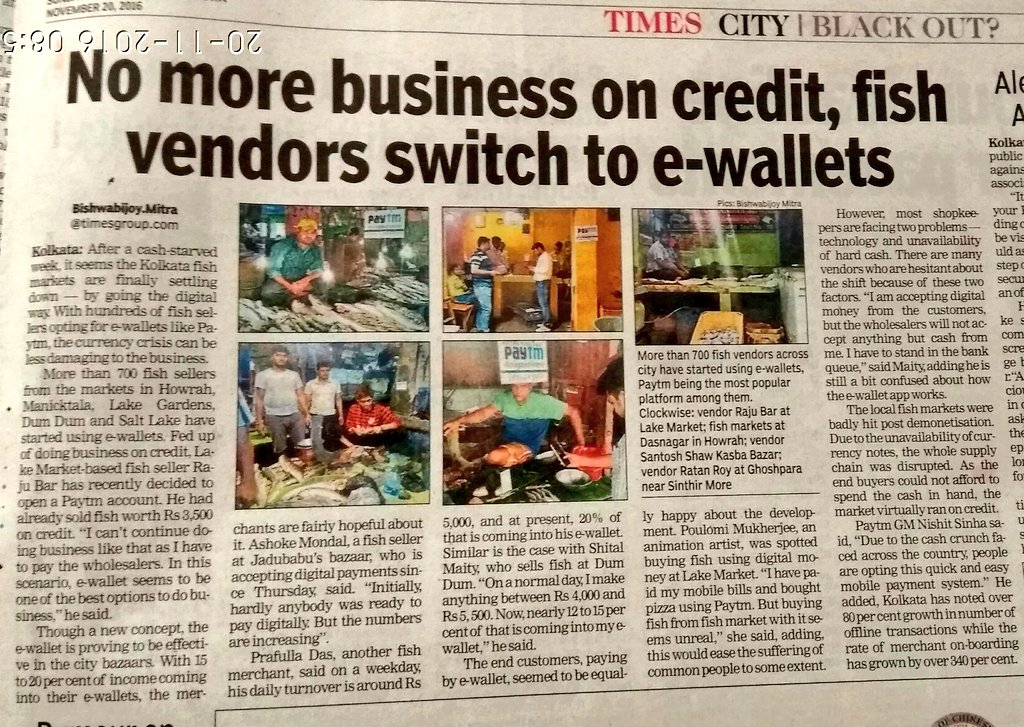 How mobile wallet players have grown in past 7 days, only android [Infographic]Source
The real estate industry is about to witness changes post demonetization but two segments in particular that would feel the heat are secondary sales market along with luxury high-end residential segment. They are bound to be hit hard as most transactions in above segments have a significant cash component. We could possibly see a dip in real estate prices by 25 –30 % or in some cases in non-metros it could be as much as 50%. Sellers will find it difficult to sell their properties and generate desired liquidity at their end.
In the past one year, we have seen with significant controls being put in place to get real estate transactions electronic along with passing of RERA (Real Estate Regulation and Development Act 2016), Benami Transactions Act and now with demonetisation drive in place, it will help real estate sector become more transparent which was otherwise notoriously famous for its reputation of being a den for stacking black money. According to CMD knight, Frank India "Prices coming down to more reasonable levels in the housing market cannot be ruled out. In the immediate future, the sector will be under serious pressure with volume and number of transactions in residential and land markets seeing a substantial downward trend," Expressing similar views, Cushman & Wakefield India MD Anshul Jain said: "The Indian real estate market which is largely fragmented and unorganised has had a reputation of being a safe haven for black money and therefore we expect to see impact on the sector."
Another industry to be impacted in the short term due to demonetization is the gems and jewellery market which is estimated to be home to more than 500,000 players of which the majority ( 70-75 %) being small players in the unorganised sector. But it is the organised sector ( 25 %) which is largely contributing to about 80 % of the total business. This sector plays a vital role in the Indian economy and contributes significantly 6-7 % of the country's GDP.
The demonetisation drive shall impact sales in short run as black money is wiped out but the overall sentiments shall remain upbeat. According to Gitanjali Gems Chairman and Managing Director Mehul Choksi "It will create havoc for a little while and the economy will also destabilise. But overall, it is going to be good for the country. In fact, the jewellery industry will thrive as people will have more trust on jewellery than currency notes". Similarly echoing these views, All India Gems and Jewellery Trade Federation (GJF) Chairman Sreedhar G V said: "This affects all industries, it will also affect the jewellery industry. We are in favour of the decision announced by the Prime Minister.
If, we were to sum up the above move by the government, there might be some inconvenience to everyone in short run, especially the small business men, farmers etc. But, in the overall interest of economy and security concerns facing the country, this courageous move will go a long way in curbing black money & fake money considerably which is in the overall interest of the nation. Removal of black money will bring in equality in the mind of the salaried and the hard working common man. There has been really no major incidents reported across India apart from a couple of political parties trying to make some noise. I have spoken to a several people during my visits to India in the last 10 days. The common person is happy – for the first time they feel that there is Justice.
Economic Times summarizes this very well : "By championing the poor and fanning class resentment, Modi also seeks to create a support base that is non-sectarian in terms of caste and religious community. He fans the still-smouldering embers of the anti-corruption fire that had engulfed the UPA in its second term. He gives the poor an opportunity for vicarious participation in the battle against the tax evading rich simply by standing in line for long hours in front of a bank or an ATM. He owns their imagination, he owns them. "
The Government should follow this demonetization move (surgical strike according to many) with more stringent and electronic processes to track and manage the Jewellery Industry and Real Estate, both of which have the propensity to hold unaccounted wealth. Then this would truly be a true war (s) to end Corruption. It will take some time, no revolution happens overnight.